InnQuest is rolling out their new web booking engine for all hotels using the roomMaster PMS. I watched a demo of the booking engine in action during a webinar the other day and have recorded some screenshots to show to people. I wasn't able to capture the backend setup pages properly, but it's fully functional like any other CRS is. All the room rates are controlled through roomMaster, which makes life easier for anyone like me that does not like signing into multiple Extranets to modify rates or booking windows.
One key feature for this web booking engine is it is not installed locally at the hotel, it is a hosted service through InnQuest's servers. This means any power interruptions or PMS upgrades at the hotel level will not interfere with guests making reservations. It also means the hotel will have one less machine to worry about when doing maintenance and backups. There will be additional fees associated with this extra service, but they are minimal from what I have been told and comparable to other services like InnLink.
Simply put, the Webbook is a massive improvement over the current booking engine for roomMaster. It is sleek, customizable, and very easy to use as a user and as a guest. The booking sequence will be a much more pleasant experience for potential guests, which should help make more sales.
The interface can be customized through some programming, but the default is rather gorgeous. It scales well in a browser window on a desktop, but is fully mobile ready for iPhones or iPads. The default design is one of the better designs I have seen for a hotel, and certainly one of the best basic designs without having to spend extra money for extra features.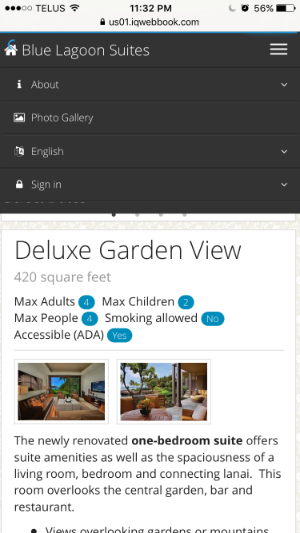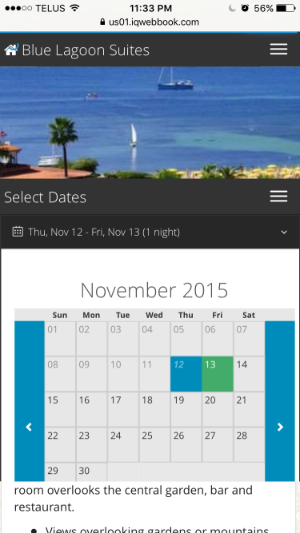 As mentioned, the booking experience is going to be wonderful for guests using this new web booking engine. From picking the dates, to viewing information about the hotel, and pictures of the rooms, all the information is clearly laid out and accessible at any point during the booking process.
While the guest advances through the booking, depending on their selections, different can be configured to be displayed. Options for bookings that include children, or staying on the weekend, or longterm stays. Every guest will have the option to select from different packages or room upgrades before they finalize their booking, adding some additional revenue for the hotel or extra incentive for guests to book through the website.
Overall, I am quite impressed with how this booking engine functions. I was not able to determine the pricing options, except that the base GDS reservation fees will remain the same and a small setup fee will occur in the first month of creating the hotel's profile. It is rolling out for properties based in the United States now, and should be reaching properties in Canada in January or February. Elsewhere in the world is likely to be in spring, but I am not positive about that.
If you are interested in learning more about roomMaster and the new Webbook engine, get in contact with your local sales office. They will be able to send you demo of the software and run through a demo of the web booking engine to help you determine whether it is right for your hotel.